Register with DocuPet now and Receive:
Free HomeSafe™ Lost Pet Service
$30 Gift Card for PetSmart
Perks for Pet Owners: Get Deals on Pet Products
Beautiful Tags linked to a secure online profile
Thanks for supporting animal welfare in St. Catharines
DocuPet membership includes your St. Catharines Pet Licence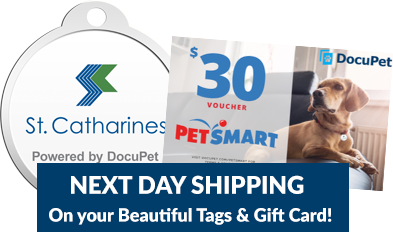 Activate Account
---
If you've licensed a pet in St. Catharines before but not with DocuPet, you'll need to Activate your account. We have your information on file, but we need to confirm it's accuracy with you. Once your account is activated, you can update the information on file, renew expiring licenses, or purchase new licenses.
You have three Activation options:
Option 1: Use an Activation Code
---
If you've received an email or letter from us with an Activation Code, simply enter it along with your postal code below.
Option 2: Pet Tag Number
---
If you no longer have your receipt, you can activate your account using your pet's tag number. If you did not provide a phone number during licensing, please contact us.
Option 3: Contact us
---
If you cannot remember the information you used to license, please get in touch. We will ask you some questions to verify your identity and will help you activate your account.
1-855-249-1370